Adoptions
Both Patsy and Cid found their Furever Homes this week!
Patsy
Our beautiful Patsy has found wonderful new parents and she is ready to start her amazing new life! This lovely couple is ready to spoil their new sweet girl and oh boy does she deserve it. She spent the first three and a half years of her life living in a van with two other dogs. We wish the three of them all the happiness in the world!
Cid
Cid's foster mommy has made it official and adopted our senior little man! She first met him about six weeks ago when he climbed up the side of the X-Pen and right into her arms. She wasn't looking for another dog, but she stayed and held him for an hour. The next weekend she stopped by to visit him and ended up taking him home to foster. After a few more weeks of adoption events, she couldn't stand the thought of parting with him. Sunday we sent them home as an official family. We just love happy endings like this. Cid was found last spring wondering the hot streets of Phoenix and when he was returned home, his owner said that he didn't really want him. Since then he's been in three different foster homes. As many of you know, finding someone to fall in love with a senior, tan chihuahua isn't exactly the easiest thing to do. We are so grateful that he climbed out of the pen that day and into the heart of someone who loves and cherishes him!
---
---
Featured Pet: Meet Jitterbug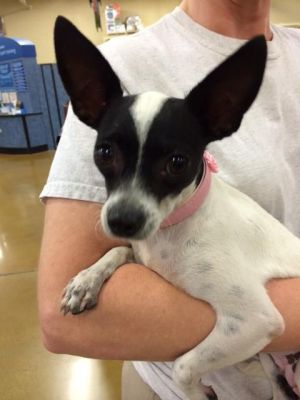 This sweet girl is Jittebug! She was found cold, wet and scared under a picnic table at a school during one of our very bad storms a few months ago. After no one claimed her, we realized this little girl probably grew up on the street.
She is currently loving life in her foster home and plays will all the dogs, big and small. She especially loves climbing on miss Hailey and showing her who's boss. She is the perfect combination of sweet lapdog and bouncy puppy playmate. She loves wearing cozy sweaters, and we just learned that she will let you paint her nails! Her purple pedicure is just so sassy. She weighs in at 8 pounds and we think she's around 1 year old.
If you want to meet her please fill out an on-line application at helpadogsmile.org and we will contact you so that you can meet him.
---
---
Education: Adoption Events
Our amazing volunteers have signed up to do three adoption events this weekend!!! Times and locations below:
Saturday: Petsmart on 7th Ave. and Bell Rd., 11am-3pm.
Saturday: Petsmart on 90th St. and Shea Blvd, 10am-3pm. This is the BIG PACC911 event and we will be one of 45 Rescue groups there!
Sunday: Petsmart on 90th St. and Shea Blvd, 11am-3pm.
We are expecting many happy tears from our doggies finding their Furever Homes.