Adoptions
2015 is off to a wonderful start! We've had some great adoptions to kick start the year.
Leroy
Neo
Alexi
Snowy
Heather
---
---
Featured Pet: Meet Maxwell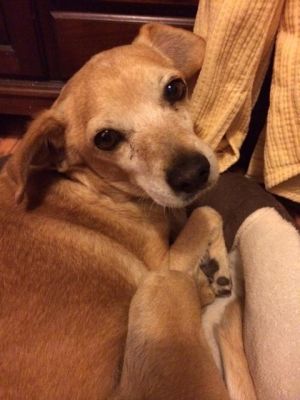 This sweet boy is Maxwell. He was found cold, hungry and lonely living on the streets of Phoenix. We have filled his belly and given him lots of snuggles; now it's time to find his furever family. He is a perfect 18lbs and just as sweet as can be. We think he is a delightful mix of pug, chihuahua and beagle; Chipuggle. We think he is about 5-7 years old and has many happy years left in him.
Maxwell will be fine as an only dog or with a mellow friend to play with. He has wonderful doggie manners, and enjoys gentle play and lots of snuggles.
If you want to meet him please fill out an on-line application at helpadogsmile.org and we will contact you so that you can meet him.
---
---
Education: Adopting an adult/senior dog
We know everyone loves puppies. The big warm belly, the puppy breath and the all over cuteness is hard to resist. Puppies are precious and wonderful, but they aren't for everyone. They require a great deal of time, energy and patience that a lot of us just don't have.
A great way to welcome a dog into your busy life is by adopting an adult or senior dog. Yes, they still require a great deal of work and attention, but they are far less work than bringing home a puppy. Dogs over the age of three have less crazy energy, are less likely to chew on forbidden objects, can be left home alone for 4-6 hour stretches and have better bladder control.
All of the adults and seniors that we have still have plenty of years left in them. Small dogs can live up to 16 years old and medium to large dogs can live up to 13 years old. Before adopting a dog, we ask that you really consider how much time you have to train, play and exercise. Also, think about what behaviors you willing to work with your dog on. Our goal is to place each of our dogs in homes where they will thrive and live out the rest of their days as valued family members.